Whale stablecoin holdings have dropped consistently since June.
Stablecoin holdings of whales are at their lowest level in six months.
On-chain analysts suggest that once whale wallets larger than $5 million begin adding stablecoins, a Bitcoin recovery can emerge.
Large wallet investors' stablecoin holdings have typically been considered an indicator for determining whether there is demand or buying power in the crypto market. A rise in stablecoin balances of the wallets could indicate a recovery in Bitcoin, according to on-chain analysts on crypto intelligence tracker Santiment.
Whale buying power should fuel Bitcoin price demand
Whale wallets holding more than $5 million worth of stablecoins own over 51.14% of stablecoin supply, the lowest level since March 18. Analysts at Santiment note that a spike in  whale holdings increases buying pressure on Bitcoin and acts as a catalyst for BTC price rallies.
In June 2023, Bitcoin price crossed $30,000. Analysts identified this by observing the change in stablecoin holdings of whales holding $5 million or more in stablecoins.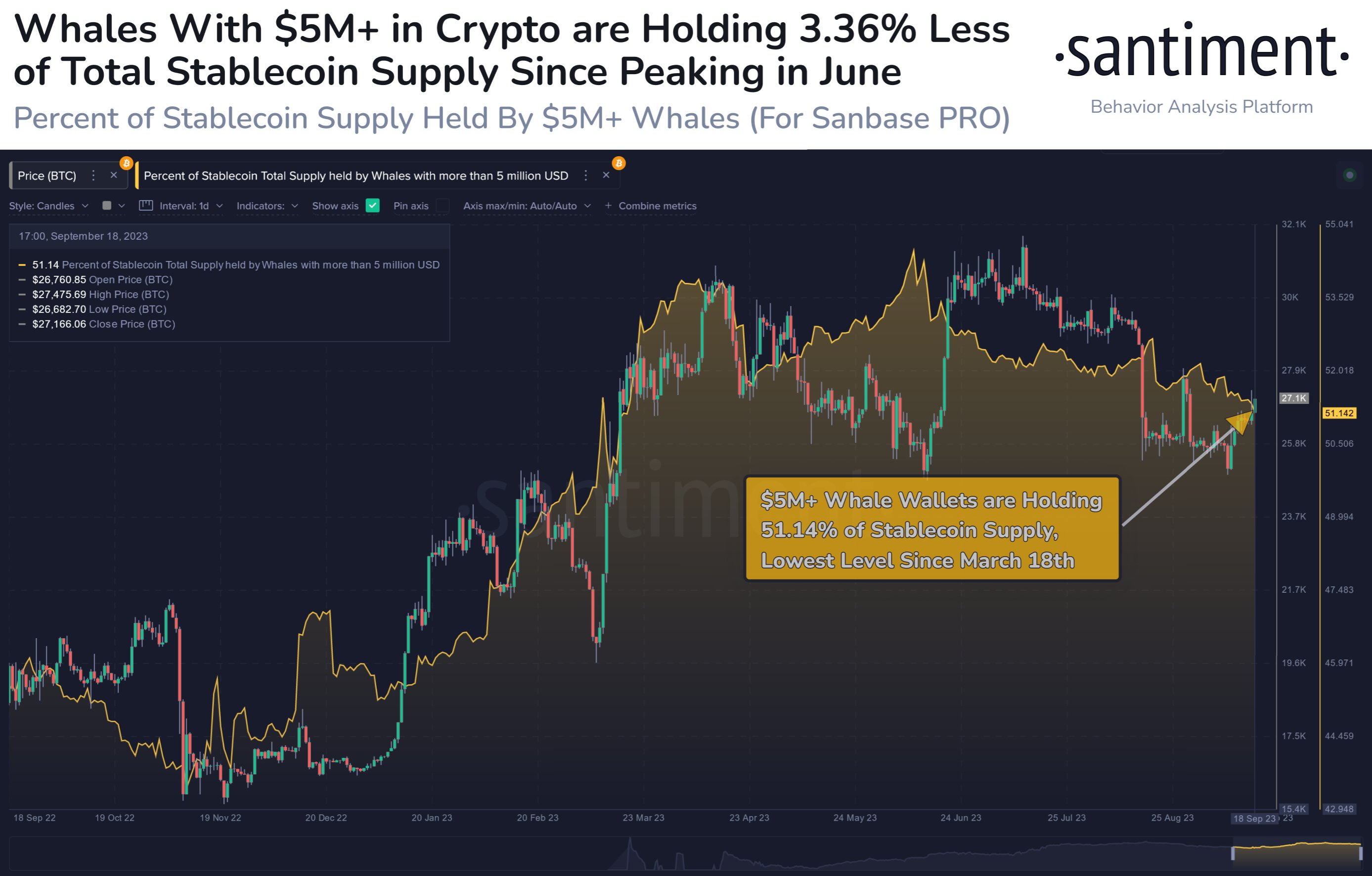 Whales with $5 million in crypto
As of September 20, the stablecoin holdings of these whales have hit the lowest point in six months. Market participants can typically predict a recovery in BTC price as large wallets in this segment begin accumulating stablecoins. This could increase demand for the largest asset by market capitalization across centralized exchanges, and in turn, drive prices higher.
Bitcoin price is above the $27,000 level on Binance at the time of writing. BTC price is above three long-term Exponential Moving Averages (EMAs) at $26,615, $27,037 and $25,883, respectively. A recovery in stablecoin demand from whales could catalyze BTC price recovery, driving it toward its August 29 intraday high of $28,000.